Saint Margaret Mary Alacoque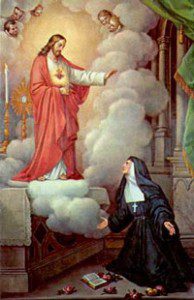 Daughter of Claude Alacoque and Philiberte Lamyn, Margaret was born July 22, 1647 at L'Hautecour, Burgundy, France. At the death of her father, she being 8 years old, was sent to the Poor Clares school at Charolles. She was bedridden for five years with rheumatic fever until she was 15 years old.
After considering marriage for some time she entered the Order of Visitation May 25, 1671 at Paray-le-Monial and was professed the next year.
A Visitation Sister was "not to be extra-ordinary except by being ordinary," but the young sister was not to enjoy anonymity. She could not meditate in the formal way expected, though she tried her best to give up her "prayer of simplicity."
From the time Margaret Mary was twenty she experienced visions of Christ. On December 27, 1674, three years being a sister, she began a series of revelations. During the next year and a half, Christ appeared to her at intervals. Margaret Mary was chosen by Christ to arouse the Church to a realization of the love of God symbolized by the heart of Jesus.
His human heart was to be the symbol of his divine-human love. By her own love she was to make up for the coldness and ingratitude of the world — by frequent and loving reception of Eucharist, especially on the First Friday of each month, and by an hour's vigil of prayer every Thursday night in memory of His agony and isolation in Gethsemane.
Our Lord revealed to her 12 promises for those who practice a true devotion to His Sacred Heart. Catholics have grown in devotion to the Sacred Heart and they have gained many spiritual rewards through the devotion of the Nine first Friday.
Margaret had to pay for her gift of holiness. Rebuffed by her superior, Mother de Saumaise, in her efforts to follow the instruction she had received in visions, she eventually won her over. Theologians who were called in declared her visions delusions, and suggested that she eat more heartily. Nor was she any more successful with many of the members of her community. She received the support of Blessed Claude La Colombiere, the community's confessor. In 1683, opposition in the community ended when Mother Melin was elected Superior and named Margaret Mary her assistant.
The convent at Paray-le-Monial began observing the feast of the Sacred Heart in 1686. A chapel was built to honor the Sacred Heart 2 years later. Soon observation of the feast spread to other Visitation convents.
After serving as novice mistress and assistant superior, she died at the age of 43 on October 17,1690 at Paray-le-Monial. She was canonized by Benedict XV in 1920.
MASS
TIMES
Weekday Masses
Monday, Tuesday, Wednesday, & Friday 12:00pm
Saturday 8:00am
Weekend Masses
Saturday 5:30pm
Sunday 8:30am, 11:00am


Reconciliation (Confession)
Friday 10:50 am- 11:50 am
Saturday 3pm-4pm
EVENTS
Thursday, Nov. 30, 2023

Morning Bible Study

Thursday, Nov. 30, 2023 @ 10:00 am - 11:30 am
Parish Hall

Friday, Dec. 1, 2023

Mt25 Food Pantry

Friday, Dec. 1, 2023 @ 10:30 am - 11:30 am
2601 Dudley Ave, Parkersburg, WV 26101, USA

Adoration

Friday, Dec. 1, 2023 @ 10:50 am - 11:50 am